Products
---
Tangential Brakes
The Tangential Brake is used when over-the-end strand material take off is unacceptable. The unrolling action of the Tangential Brake allows for maintained smooth precise tension control of nearly any strand material without any added twist to the product. The Tangential Brake can be configured to accommodate any package or spool size. A spindle chuck is designed to snugly grip the I. D. of the package core. When a spooled material is used, the unit has a positive retaining mechanism to keep the spool on and engaged with the Tangential Brake spindle.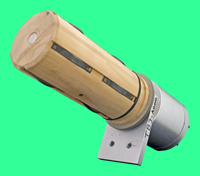 Small Tangential Brake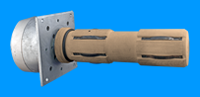 Large Tangential Brake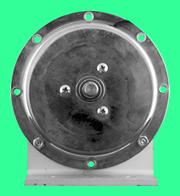 Medium Tangential Brake

Tangential Brake in Closed Loop System

Tangential Brake in Closed Loop System
Inherent with unrolling applications, as the diameter of the package changes, the tension of the strand changes. With the Tangential Brake, used together with a Textrol Laboratories monitoring tension meter signal feedback, outgoing tension can be controlled to +/- 2% of the required tension set point.
Standard tension packages are for 500g, 1000g, 3000g, and 5000g units. Custom higher tension units are available. These robust units are built to stand up to the high tension pulls required on today's industrial yarns and wire. Tangential Brakes require 24VDC input power. Any Tangential Brake can be designed to fit any custom tension need!