Products
---
Accutense
Textrol Laboratories' Accutense can be used to apply tension to nearly all strand material in nearly all processes. Braiding, bonding, cabling, coring, drawing, heat setting, knitting, measuring, metering, quilting, sizing, twisting, texturing, wefting, and winding are but a few of the processes where Accutenses are used.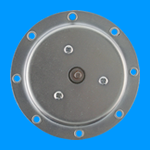 Front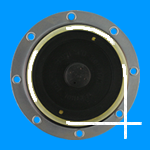 Yarn Path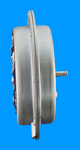 Side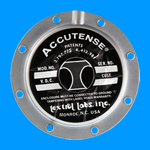 Back
Accutense Standard Tension Ranges:
5g - 35g
10g - 60g
20g - 120g
30g - 200g
50g - 300g
75g - 500g
100g - 750g
150g - 1000g
250g - 1800g
350g - 2500g
750g - 5000g
Accurate to within +/- 5% of the tension set point typical unit to unit.
Standard Input Power: 24 VDC & 60 VDC
.25 Amps current per unit @ 24 VDC
.07 Amps current per unit @ 60 VDC (300g and under)
.12 Amps current per unit @ 60 VDC (over 300g)
The Accutense is capable of precise strand tension control for a large variety of yarns and/or wire without damage to the product due to the slip free grip of the durable plastic strand carrier. All known strand materials have been handled successfully including natural, man made, and blended yarns: spun yarns, mono filaments, elastic yarns, aramid fibers, fiberglass, carbon filaments, as well as copper, gold, platinum, and aluminum wire.
A variety of yarn carriers are available to fit each product's tensioning need. Carrier/Wheel assemblies come in the following standard sizes:
5:1 (5 revolutions = 1 meter of product)
4:1 (4 revolutions = 1 yard of product)
3:1 (3 revolutions = 1 yard of product)
The Accugrip carrier comes in a variety of durable elastic molded plastic materials to best facilitate a non slip, non-damaging grip on the product as tension is applied. An E-Z Clean wheel option allows for quick and easy carrier changes. NOTE: 270 degrees of contact on the carrier is required for accurate tension output and to prevent any chance of slippage of the strand in the carrier
Each unit can be supplied with or without mounting brackets. Standard creel type applications include molded in mounting to 1" square posts for left and right hand mounting needs. Many custom brackets are available.
A variety of pretensions, built in electronic rotary stop motions and DC power controllers are available too.