Products
---
Controllers / Power Supplies
Textrol Laboratories, Inc. offers many DC power supplies to meet each application's need. The correct power supply requirements are based on the following data:
Plant Supply Voltage: 220 VAC or 110 VAC, 50 Hz or 60 Hz
Outgoing Supply Voltage: 24 VDC or 60 VDC to tension units
Number of units being supplied determines the amperage load on the power supply. (A 60 VDC tension unit generally requires .08 Amps each. A 24 VDC tension unit requires .25 Amps each)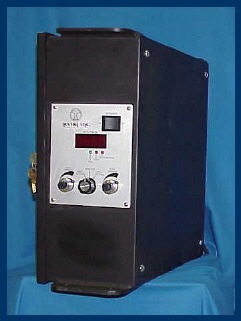 The Amperage ratings available are:
Small Power Supplies -
.5 Amp @ 60 VDC Output
1 Amp @ 24 VDC Output
On .5 and 1 Amp power supplies, the tension is controlled by infinitely varying the voltage with a precision 10 turn potentiometer located on the front face. A digital LED voltmeter measures and displays the output voltage.
Medium Power Supplies -
5 Amp power supplies are available with programmable PLC controls with touch screens. More economical and simpler 5 Amp power supplies are also available with manual potentiometer control.
Large Power Supplies -
Much larger, high amperage, multi-zone power supplies are available for large unit quantity applications. These power supplies are provided with programmable PLC's and Touch screens.