Applications - Winding
---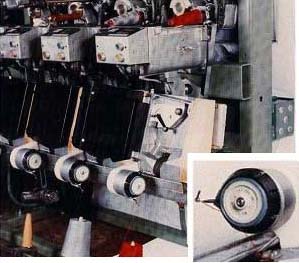 AccuMeter tension control system on Ottko Winder.
Using Textrol Laboratories's AccuMeter tension control, you can create an efficient winding system for parallel winding or precision wound packages. This system can be adapted to new equipment or older winders.
This winding system provides uniform tension for high speed winding of sewing threads, roving, and yarns along with electronic controls for specialized styling and patterns.
Textrol's Winding System:
Measure yarn.
Sense broken ends and speed changes.
Signal motor stop.
Control Lubrication application percentage.
Elimination of carpet streaking.
Trouble free off winding for tufting applications.
Programmable increase or reduction of tension as package is wound.
Optional speed sensing available to correct varying spindle speeds.
Can be used on heat set creels for even tension of yarns entering the heat tunnel.
Your Company's Benefits:
Always First Class Quality
Maximum Profit
Increased Production
Decreased Labor
We can customize to meet your needs. Contact us today!