Applications - Cabling
---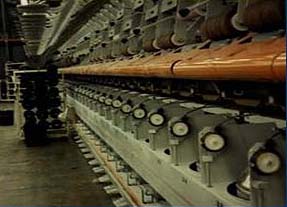 Verdol Cabler shown with Textrol tensioners.
By combining Textrol Laboratories's AccuTense and AdjustaTense tensioners, an excellent cabling system can be created.
Textrol's Cabling System =
Elimination of coring.
Balancing of tension resulting in collapsing balloon effect of yarn around the cone housing.
Increased spindle speed.
Reduction of labor set up time by 75%.
Existing Cabling machines can be upgraded.
Your Company's Benefits =
Always First Class Quality
Increased Production
Decreased Labor
Maximum Profit
We can customize to meet your needs. Contact us today!